Paddle at The 2022 Dragon Boat Festival
Whether you are an experienced paddler or new to the sport, the Victoria Dragon Boat Festival looks forward to welcoming you to our boating community!
Paddles up! Come race in one of the most beautiful venues in Canada – the Victoria Dragon Boat Festival.
We bring together local, regional, national, and international teams for a weekend filled with the spirit of dragon boating. The Inner Harbour of Victoria offers breathtaking views, a pleasure to the eye as you swift through the water. Truly, there aren't many other spots in the world that can offer such an experience!
We offer an inclusive, diverse race experience, with many racing categories available for registration. Take a look at the various divisions, challenges, and race types that you can sign up for!
Looking for information on past race results and competitors? Visit our Festival archives to learn more about our paddling experience.
Curious about the wonderful sport of dragon boating? Looking to make new community connections in a fun setting? There are so many paddling opportunities available for you!
Paddlers are so much fun! Bring a buddy team this year and, as a reward, you get $100 off your 2023 registration!"The more the merrier!
Have your team and yourself immersed in the full dragon boating experience! Take part in some or all of our activities, specially geared to build team culture, sportsmanship, and long-lasting connections! Below are snippets of our past events. Stay tuned for further details on what you can expect at the 2022 Festival.
VIB Spirit Award
On the water prowess is one thing, but does your team show team spirit? Show your team spirit – sportsmanship, enthusiasm, fund-raising, community engagement, and positive attitude to the secret judges. You never know who is voting so race hard, have fun and show your spirit – it's what makes this festival fun!
Check out our Facebook for ways to earn points and win a pizza party on Saturday night!
The pizza party will be awarded to the winning team on Sunday night during the trophy presentation
Paddlers' Dinner
Due to increased food costs, we're unable to host the VDBF Paddlers' Dinner this year but hope to again in 2023.
Paddlers' Breakfasts
Breakfast is the most important meal of the day. Fill up for a good day of races at the Paddlers' Breakfast. This hearty breakfast includes a breakfast sandwich, yogurt, fruit and coffee. Stay tuned for more information on the 2022 Paddlers' Breakfast.
Do good in the world. The Paddlers' Pledge Program brings our community together in support of the BC Cancer Foundation. Take the pledge and raise funds to help fund cancer research and care right here on Vancouver Island. Register yourself or your whole team, and you could win fantastic prizes like free registration in next year's Victoria Dragon Boat Festival.  For more information, view the Paddlers' Pledge page.
Breast Cancer Survivors' Ceremony and Honour Arch
Honour our friends who have fought breast cancer. Join us to honour their battle through the Breast Cancer Survivors' Challenge race, followed by the Carnation Toss ceremony.
Show your support by being part of our Honour Arch. All paddlers are invited to bring their teams and paddles to the dock exit and create a paddle arch for the survivors to process through at the end of the ceremony.
Awards Ceremony
The top three finishers in each medal division earn medals, and there are consolation pins for first, second, and third in the B (Consolation) rounds. Medals and pins can be picked up from the BC Cancer Foundation tent after your race and take a picture without VDBF backdrop!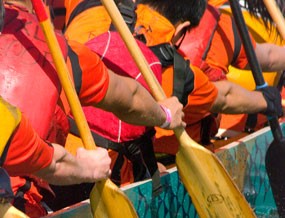 Paddlers' Feedback
How are we doing? Your feedback helps us serve you better. Let us know how we're doing so that the Victoria Dragon Boat Festival can remain one of your favorite Festivals.
Drop by the Information Tent any time and fill out our comments and feedback form!
Did you know that Victoria is one of the few places in Canada that you can paddle all year round?
There are plenty of teams in Victoria actively recruiting new members, and new teams forming every year. Contact us for more information about opportunities for experienced paddlers in Victoria.
Is your team currently recruiting? Email us and we'll post your openings here.
Dragon boat paddling offers a unique opportunity to engage your employees through a fun team-building activity that people of all ages and fitness levels can take part in. With emphasis on collaboration, communication, commitment and co-ordination, the lessons learned on the water can be taken back to the workplace. Dragon boat paddling can bring out leadership, help develop a sense of pride and accomplishment among participants, and build camaraderie.
Please contact us for more information on how you can start your own team.